Free shipping on orders over $150 *with some exceptions*
Login
Log in if you have an account
Dont have an account? Register
Tips For Off Season Indoor Bike Trainer Workouts
10 Nov 2023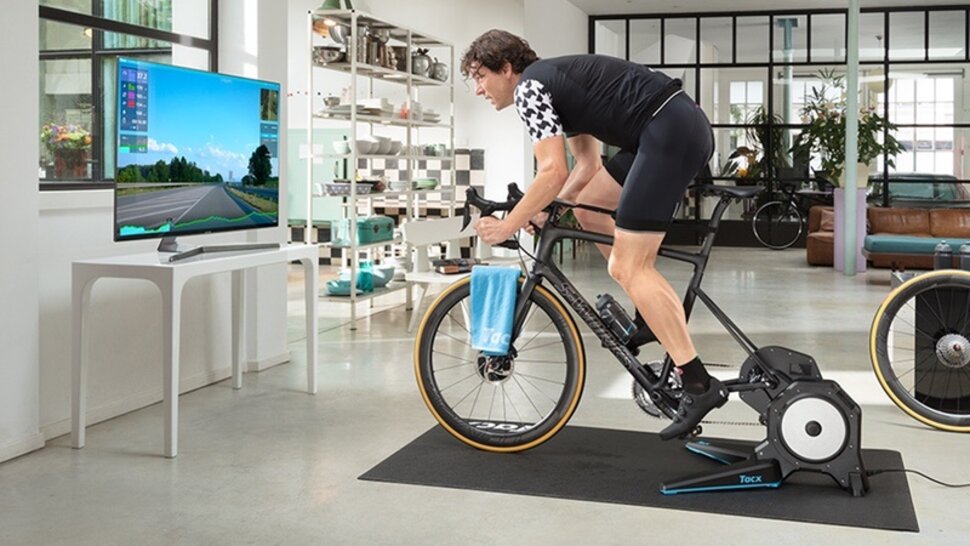 As the days grow shorter and the temperature drops, many cyclists face the dilemma of how to maintain their training routines during the off-season. Fortunately, indoor bike trainers have revolutionized the way cyclists approach winter training. 
In this blog post, we'll explore the benefits of using indoor bike trainers and the bike trainers we recommend. We will also discuss how you can leverage the latest technology to master your off-season bike trainer workouts. From smart trainers to popular tools like Zwift, whether you're a beginner or a seasoned cyclist, indoor bike trainers are a great way to train during the off-season and ensure you stay in shape during the winter months!
Why Invest in an Indoor Bike Trainer?
Indoor bike trainers provide cyclists with a convenient and efficient way to stay fit during the off-season. In the past, cyclists sought out spin classes and recumbent/stationary bikes in an effort to maintain their strength and endurance in the off-season months. However, every cyclist knows that while these bikes can certainly provide a challenging and engaging workout, they'll never be able to mimic the actual riding posture the way a bike trainer can. 
While spin bikes, recumbent bikes, and upright stationary bikes are separate workout devices, a bike trainer is a device that specifically allows you to convert your regular bike into a stationary exercise bike. One of the main advantages of using a bike trainer is that it allows you to train on your own bike. Training on the same bike you ride on the road allows you to mimic your actual riding posture. Core muscles, arms (particularly triceps), back, and even your neck all work together to support your upper body in its riding posture. Cyclists who ride long distances know that the first things to tire are your arms and neck. 
If your off-season riding doesn't mimic this posture because you're riding a stationary bike per se, you'll notice an egregious decline in your endurance when you get back in the saddle come spring. Investing in an indoor bike trainer is a great way to ensure you're ready for your spring and summer bike trips.
Indoor Bike Trainers We Recommend
Before you run out to buy a bike trainer, you'll first want to consider the type that will best suit your needs. There are several kinds of trainers for bikes, including traditional trainers, as well as smart direct-drive and wheel-on trainers. Among them, smart trainers tend to reign supreme. If you have the budget, we definitely recommend opting for a smart bike trainer. You'll also want to consider if you want a direct drive or wheel-on trainer. Smart bike trainers are available in both options and while there are benefits to both, your choice will ultimately depend on personal preference. 
Qubo Fluid Trainer by Elite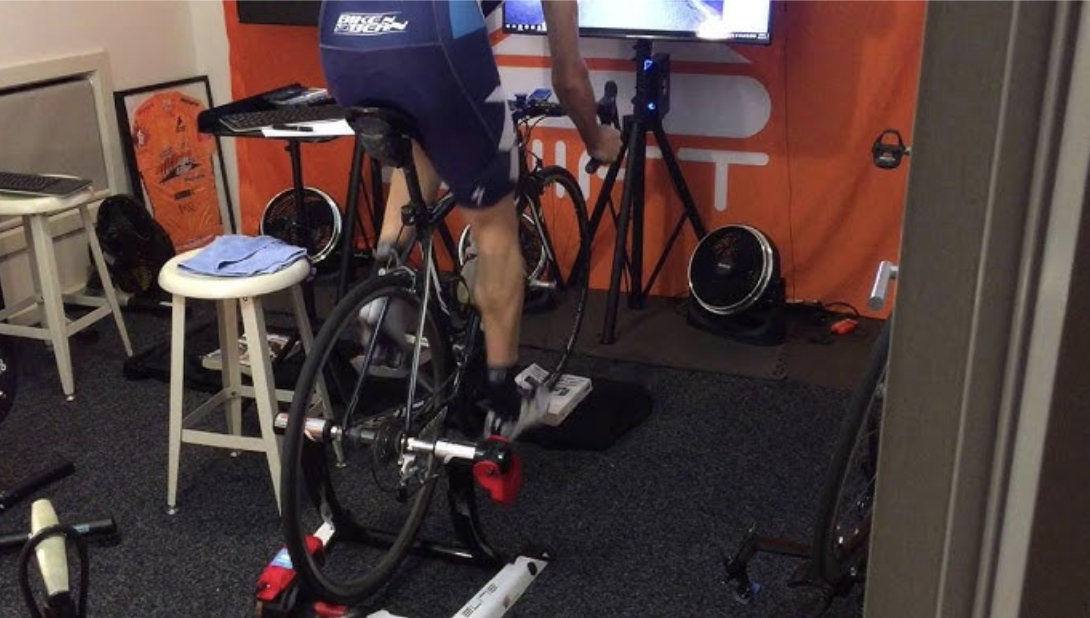 The Qubo Fluid Trainer is a traditional basic wheel indoor trainer that operates by friction. With this wheel-on trainer, the rear tire rests on a small fluid-resistance roller. Among all the different types of trainers we're going to cover in this blog post, this is definitely the most basic model. 
Basic wheel trainers offer an excellent introduction to those who are new to indoor bike training; they're affordable, easy to set-up, and easy to stow away. However, unlike a smart trainer, the rider has to manually control the level of resistance.  
The trade-off with basic wheel-on trainers comes in the form of features and affordability. They're available at incredibly affordable prices, however, you won't have the interactive virtual riding experience or live feedback that you get with a smart trainer.
Neo 2T Smart Trainer by Tacx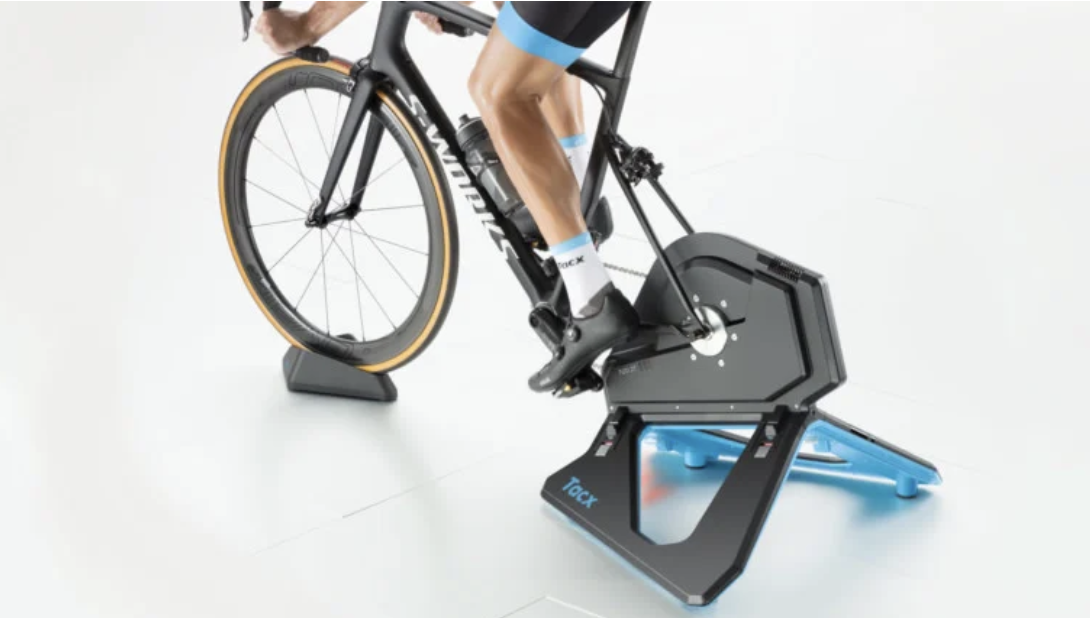 The Neo 2T Smart Trainer is a direct-drive smart trainer that provides the ultimate indoor riding experience. While this is definitely one of the most premium options on the market, we personally believe that it's for good reason. The direct-drive connection makes this indoor bike trainer incredibly accurate and quiet. 
The smart component of this trainer allows you to receive live feedback on your cycling performance. Get stats about your power, speed, cadence, and more within 1% accuracy. You can also connect to apps and software programs that simulate real-world cycling routes, providing a more engaging and immersive experience. Cyclists can use the Tacx software or Zwift app for a real road feel that simulates the road's surface, accents, and descents. The Zwift app also allows cyclists to ride in a virtual world, compete live with others, and participate in structured training programs and workouts.
Tuo Smart Trainer by Elite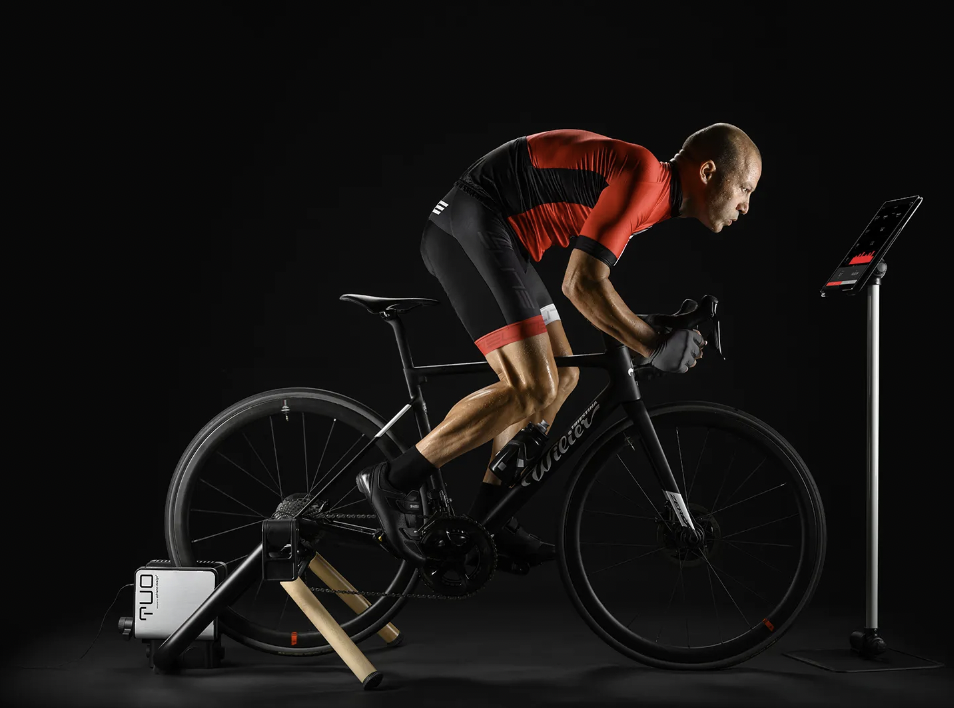 The Tuo Smart Trainer by Elite is a wheel-on smart bike trainer. The convenience and versatility of a wheel-on indoor bike trainer is unmatched. They're also significantly more affordable compared to their direct-drive counterparts. Wheel-on trainers are incredibly easy to use and set up making them a great option for those that live in a small space or those who require a trainer that's portable. Unlike direct-drive trainers, wheel-on trainers operate with the back tire resting on a small friction roller, meaning you will likely want to invest in a trainer-specific bike tire. 
In the past, wheel-on trainers were criticized for lacking accuracy and reliability, however, as technology has improved they've become significantly better at interacting with software and devices. Still, they are not as accurate or reliable as a direct-drive trainer. Similar to the Tacx trainers, Elite smart trainers interact with either their own E-Training software or other indoor bike trainer apps like Zwift.
Indoor Bike Trainer Accessories and Maintenance
To enhance your indoor cycling experience, you'll want to consider investing in accessories like a dedicated indoor bike trainer tire. These tires are specifically designed for indoor use, providing better traction and minimizing wear. While you can use your outdoor tires on your bike trainer, road tires aren't designed to handle the friction of a wheel-on trainer, leading them to wear quickly. Additionally, a front wheel riser block can help elevate your front wheel, creating a more natural riding position.
Proper maintenance of your indoor bike trainer is essential to ensure optimal performance. Regularly clean the trainer and your bike to prevent dust and debris buildup. Lubricate moving parts as recommended by the manufacturer to prevent wear and tear.
How to Track Distance on Your Indoor Bike Trainer
Tracking distance on an indoor bike trainer can be challenging since the bike remains stationary. However, most smart trainers and apps like Zwift provide accurate metrics, including virtual distance travelled based on your power output and speed. While the distance may not directly correlate with outdoor riding, focusing on power and intensity levels is more meaningful for indoor training workouts. Leveraging the latest technology and tuning into apps like Zwift are the best ways for riders to reach their riding goals and crush indoor bike trainer workouts.
Conclusion
Keeping up with the latest technology and choosing the right trainer is pivotal to acing your off-season bike trainer workouts! Basic wheel trainers like the Qubo Fluid Trainer provide a cost-effective entry, while premium options such as the Neo 2T Smart Trainer offer immersive, lifelike experiences through advanced technology. With the right technology, gear, and accessories, you can optimize your training and take the guesswork out of your off-season indoor bike trainer workouts. 
 Get the most accurate progress tracking on your workouts through platforms like Zwift. Benefit from live rides that mimic the roads and race against riders from all over the world with a smart trainer from Elite or Tacx. Indoor training isn't just a substitute; it's a path to dominating the roads with confidence when the sun returns!