Free shipping on orders over $150 *with some exceptions*
Login
Log in if you have an account
Dont have an account? Register
Service & Repairs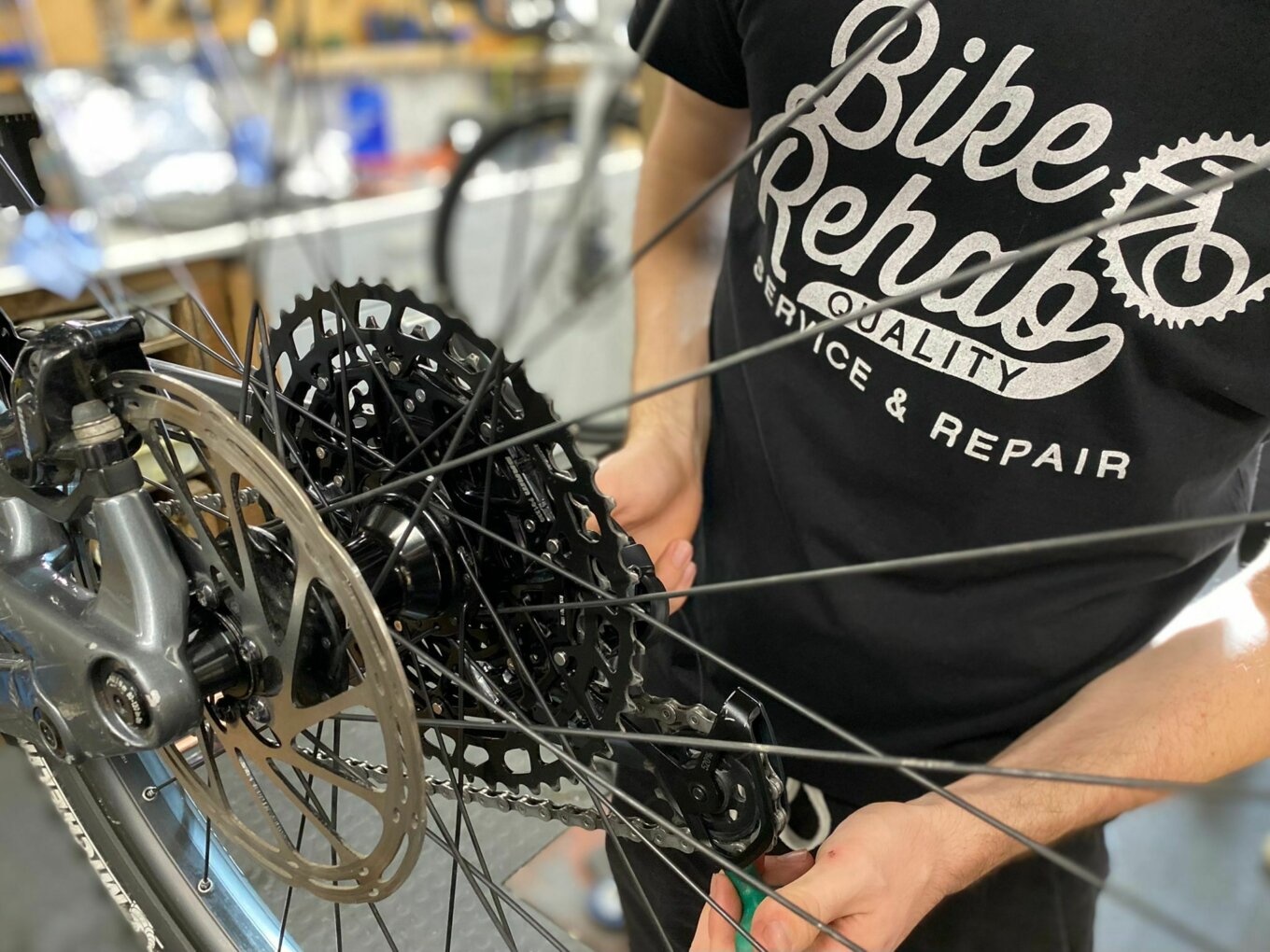 What's the biggest reason you should purchase your next Bike from Chain Reaction Bicycles?
One word... Service !
Since 1988, our highly skilled & experienced mechanics will repair and tune your bike to it's peak potential. We offer a wide range and well-stocked supply of parts, accessories and  honest & responsive customer service.
Included with every bicycle purchased at Chain Reaction:
1-year unlimited Pro Tune Up service
Our most popular service packages are listed below.
if you have any questions or would like to book a appointment, please drop by, call or email us; 
416-234-5300
The Works  $689
---

Get the "New Bike Feel" service Plus...
Your choice of 2 new tires, Road, Mtb or Gravel installed (up to $200/ pair)
Grouppo appropriate new chain (up to $90.)
Front and rear Hub bearing cleaning / fresh grease
Shimano Di2 or Sram battery recharging and firmware updates
48hr. turn around (with appointment). Ask for more details.
Your bike will look and perform like new again!
New Bike Feel  $399
---

Includes Pro Tune Up Plus
Also Includes....
* Bottom Bracket & Headset cleaning/ fresh grease
* Comprehensive bike detailing & paint finish protection
* Your choice of new bar tape or grips
* All new gear and brake cables (premium PTFE coated cables, additional cost)
* Disc brake bleed
* New Disc or Rim brake pads (premium pads, additional cost)
* Shimano Di2 or Sram battery recharging and firmware updates
Pro-Tune Plus  $199.99

---

 Includes a complete Pro-Tune Up, plus...
Comprehensive drive train deep cleaning, in a environmentally friendly solvent bath
Bottom Bracket cleaning
Complete frame & wheel detailing
Pro Tune Up $129.99

---

 Includes:
  A complete inspection of your bike, to ensure everything is tight, aligned, safe, and in good working order.
Front & rear Wheel truing
Front and rear Brake adjust (both rim or disc)
Front & Rear Gearing adjustments and lubrication
Rear derailleur hanger check/alignment
Drive train lubrication and wear assessment
Check all nuts and bolts are properly torqued
Hubs, Headset and Bottom Bracket Bearing adjustments
Tire pressure check
---
Pro Fitting  $139.99


Included with purchase of a Road & Gravel bike over $3000.
Our bike fit program takes your existing bike, or a newly purchased Chain Reaction bike, and adjust it to fit your body and desired position. A properly fitted bike is the most important way to prevent knee & back pain, saddle discomfort, and neck pain. It is also vital in optimizing your performance.
Your Pro Bike Fitting takes the following into account:
Frame Size
Comfort Issues
Handlebar Position
Brake lever reach
Saddle Height, Angle & Position
Cockpit Reach, Stem Length & Angle
Cleat Alignment
Hip to Knee to Angle alignment.
Pro Aero Fit - $159.99
---

Included with purchase of new TT or triathlon bike
Our aero fit program is similar to the Pro Bike fit service but with the addition of the installation and adjustment of aero bars. Aero bars are perfect for the multisport athlete or anyone interested in taking pressure off their hands and arms.
Bike Pack for Shipping  $119
---

Serious cyclists can't travel without their Beloved Ride.
We will carefully pack your bike in preparation for Air Travel or shipping. (All packing materials included)
Travel cases are also available for rent starting at $65 /week or $110/ 2 weeks. (labour not included)
Other Services
---

Tire / tube replacement: 20.- 30. (parts not included)
Wheel truing: 30. - 60.
Wheel Building:  90./ wheel
Bike Bath & Detailing: 50. - 60.
Frequently Asked Questions
---